Developing the BumperSign™, McCue spent a lot of time researching various signposts across the country. The more signs we saw, the more we were surprised. How could something so simple cause retailers so many problems? Eyesores, costly repairs and constant maintenance are just a few issues that we identified with the traditional options. Luckily McCue's new BumperSign solves big and small problems of the common signpost.
Bent Sign Posts
After performing field research, the most obvious issue we noticed with signposts was that the majority of signposts were bent. Bent signs look unsightly, can be a safety hazard, and are costly to replace. If the bent posts are holding handicap or accessible signs, then they're also likely not confirming to ADA specifications.
We also noticed sign posts were frequently scraped, scratched and rusting. Car bumpers rub the signs, scratch away the finish, and years of external elements eat away at the steel. Rusty signs can be sharp safety hazard, and they simply take away from the look of the front of a store.
It was also apparent that most signposts are core-drilled posts or bollards. While core drilling and embedding a post deep into the ground may generate thoughts of strength and longevity, core-drilled signs can cause major problems. If a vehicle hits the sign and post, it's likely to cause a car accident with damage to both the sign and the vehicle. Nobody wants customer vehicle damaged or injured customers. And if the sign gets damaged, it's expensive to core drill a new sign in its place.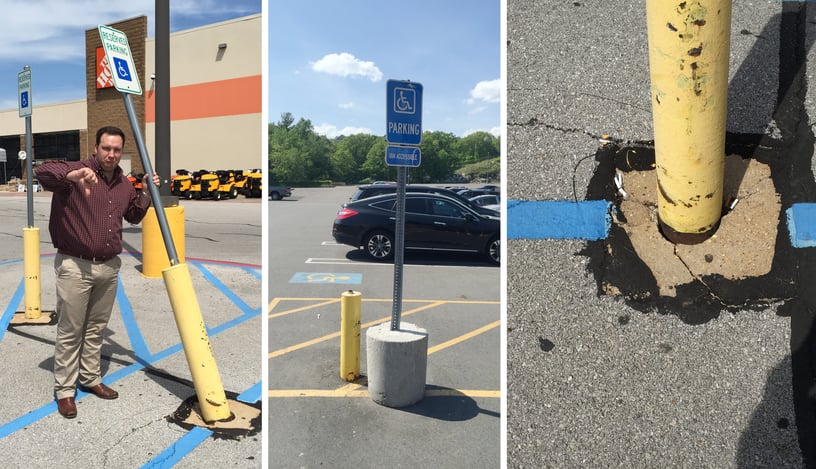 Solution
McCue took a look at the problems with conventional parking lot signage, and solved the problem from the ground up with the BumperSign. It's a shock-absorbing sign post that looks good too. BumperSign's patent pending pairing of impact absorbing dampers with cold rolled steel internals can take the wear and tear of every day bumps, and it's HDPE external shell offers a clean and refined aesthetic that can fit into any parking environment. The BumperSign is a much-needed solution to the age-old problem of parking lot signage.