The biggest challenge facing the manufacturing industry today involves recruiting and retaining young, skilled employees who are a good-fit for a given position and work environment. In order to accrue an experienced workforce with long-term growth potential, implementing effective recruitment and retention strategies, at all levels of the business ladder, is key.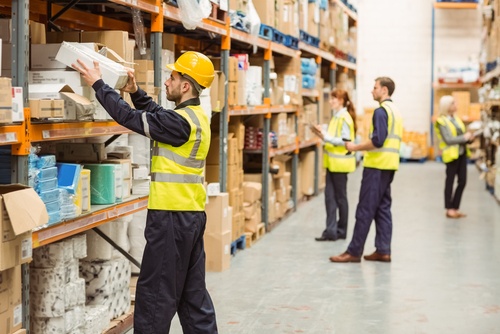 The problem? Millennials (between ages 21-36) have a largely different set of expectations, values and long-term career goals than the generations that preceded them. Their career paths often aren't as linear as those of their parents — in fact, 41% of millennials expect to be at their current job for less than two years, while the same was true for only 17% of Generation X and 10% of the Baby Boomer generation. What's more, the material handling industry in particular has gained a reputation as a relic, since younger generations assume that the increase in automation will soon make manufacturing jobs obsolete.
In order to attract millennials to careers in material handling, therefore, it's important that companies directly address these concerns and actively combat any negative industry stereotypes. We've compiled a comprehensive list to help you improve the success of your recruitment and retention efforts.
Offer Ample Opportunities for Greater Engagement, Growth and Learning
According to a study done by Report Linker, 83% of employees are more likely to stay with their organization if they're offered the opportunity to take on new challenges. At the end of the day, that entails more than simply offering someone a bigger paycheck — it means offering employees the opportunity to experience the satisfaction of learning new skills, engaging with new problems and responsibilities and succeeding at new ventures. It all comes down to this: if you're intellectually stimulated and thoroughly engaged in your work, you're less likely to consider leaving your position to pursue another opportunity — even if that other opportunity has a competitive price tag.
Strive to be more than "just a job"
Company culture and values play a big part in employee retention and turnover rates. The advent of platforms like LinkedIn, Indeed, Monster and Glassdoor have increased overall workplace transparency — so if turnover is high and employees dissatisfaction is pervasive, it's likely public information.
Social platforms don't have to be your enemy; conversely, they should be one of your biggest marketing assets. Companies that focus on creating a positive work-life balance and invest in culture-cultivating events and health initiatives are in higher demand —attracting more qualified job-seekers and retaining more talent long-term.
Think of social platforms as a soapbox for communicating what your company is all about. Why do you exist? What makes you different from your competitors? Be upfront about your company's values and mission; individuals want to work somewhere where they can engage with the work they're doing on more than a superficial level. For employers, that means making a substantial effort to ensure new hires feel connected to their company's mission — something that's only possible if your mission is clear, compelling and accurate. By improving your employees connection to the values and mission of your company by just 10%, you can experience a 12.7% reduction in safety incidents, an 8.1% decrease in turnover rates and a 4.4% increase in profits.
Furthermore, companies that rank higher for company culture are the same ones that make lists like Fortune's "100 Best Companies To Work For." Posting a company value statement on your website or social platforms is a great way to inspire interest and speak directly to potential hires about what it means to work at your organization.
Create an attractive work environment
A lot of people have aesthetic misconceptions about what it means to work in a manufacturing facility. Creating a good work environment means providing staff ample workspace, bright lighting, modern equipment and maintaining a clean and organized facility. All of these things also make for a safer work environment — another essential component of workplace satisfaction and productivity.
Look for someone who will be a good cultural-fit for your company
How do you determine if someone "fits?" An individual is a good fit for a company when they share a strong belief in that company's values and have an acute understanding of their relationship to the overall organization and their coworkers. Essentially, you're evaluating for compatibility — determining how a prospect's communication style, job expectations, interpersonal abilities and career values meld with your organization. According to a study conducted by the University of Iowa Department of Management & Organizations, employees who "fit" with their company and coworkers experienced greater job satisfaction, contributed to higher retention rates and had better overall performance stats. Conversely, those who were poor company compatibility had consistently lower work quality and job satisfaction and higher turnover rates. The bottom line? Happy employees stick around and outperform industry competitors and benchmarks.
Highlight positions that require a greater amount of specialization and responsibility (and demonstrate how new hires can ascend to that level)
It's important to show prospects that careers in material handling aren't dead ends. By showcasing the complex and tech-related job requirements of a given position, you're more likely to attract young professionals looking for a challenging, stimulating career with upward potential. The title "material handling" can seem misleading to an uninformed audience— it's important stress the level of engagement and skill that upper-level manufacturing position require and highlight how your business model offers the opportunities to take on more responsibility. In any job market, it's not uncommon for someone to end up finding career satisfaction in an industry or position which they never imagined they'd end up in. The key to winning over talented job seekers is showing them that their career needs, values and goals are not dissonant with your own.