McCue designs and manufactures bollards that stand the tests of time, people, vehicles, machinery and everyday wear and tear. They'll help you achieve the look and functionality you need.
Find the right bollard to protect your assets. We have options that spin, absorb and deflect for maximum damage control.
McCue Bollard Manufacturers | Bollard Solutions and Applications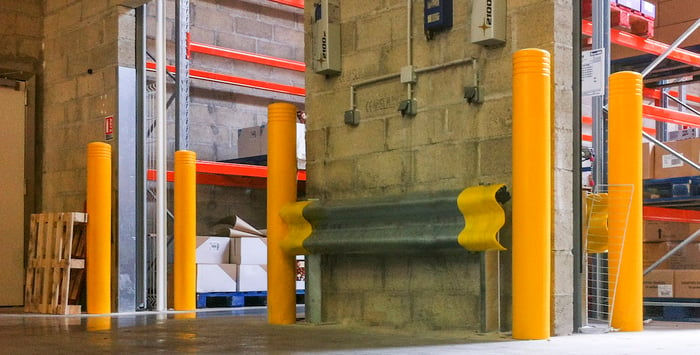 At McCue, our bollards not only meet industry standards, but they are also:
Attractive – They look great and come in several colors (yellow, black, steel) depending on the type of bollard you choose.
Protective – Designed for high-impact and low-impact collisions, our bollards protect your assets in every situation.
Restrictive – Hold the line! Use bollards to designate the flow of vehicles, machinery or foot traffic.
Flexible – We design bollards built around your business. From traffic flow to door protection, we have the bollards you need.
Find the Right Bollard for the Right Job
Step up your warehouse game. Traditional steel bollards bend or break upon impact and often damage flooring, forklifts and other valuable materials and assets. Our FlexCore Bollard is a smarter, surface mounted bollard that is reinforced with a revolutionary energy-absorbing design centered around a zinc-plated steel core. Designed to rotate with sideswiping hits and absorb impacts without cracking concrete flooring, the FlexCore Bollard will save time and money for years to come.
Eliminate the need for scraping, painting and repainting your bollards with our bollard and post covers. Constructed from impact-resistant polypropylene, these removable bollard and post covers come in 4.5" and 6" configurations to reinvigorate and reinforce your existing pipe and steel bollards.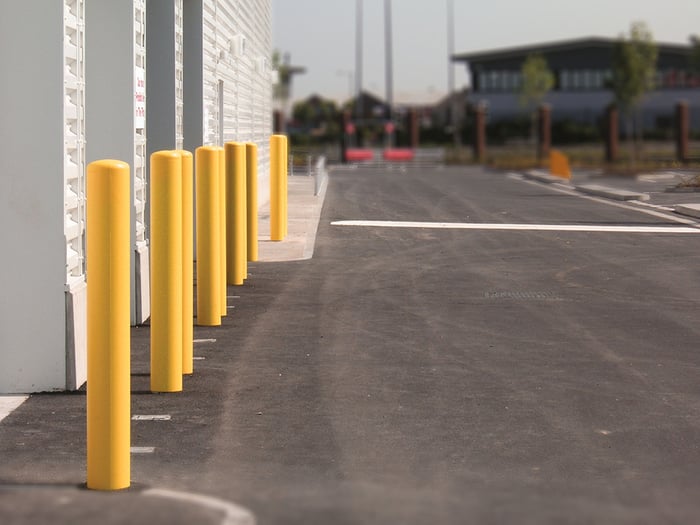 The Flex Post 6 Flexible Steel Bollard is a simple, clean solution to asset protection that doesn't sacrifice strength for looks. The heaviest of blows don't phase this bollard. It's easy to install, has no exposed bolts or anchors, and the zinc-plated steel finish is corrosion resistant. It takes only one person to install it.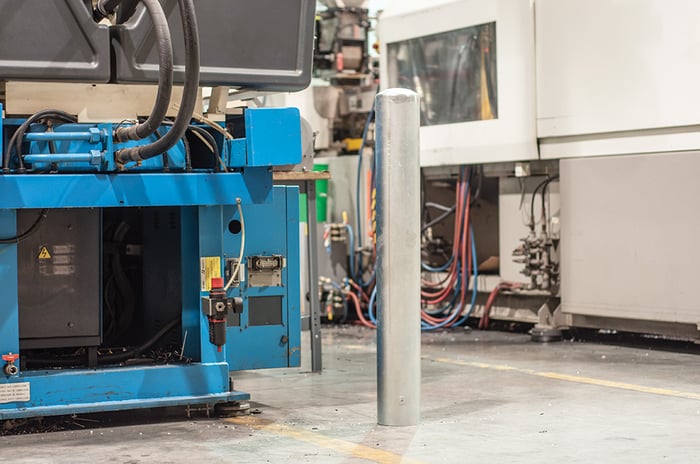 Consider our Roller Flex Post for high-traffic corner protection. Keep your business rolling right along with easy installation and a no-maintenance rotating HDPE shell that rocks, rolls and lifts when hit. Get peace of mind without the hassle.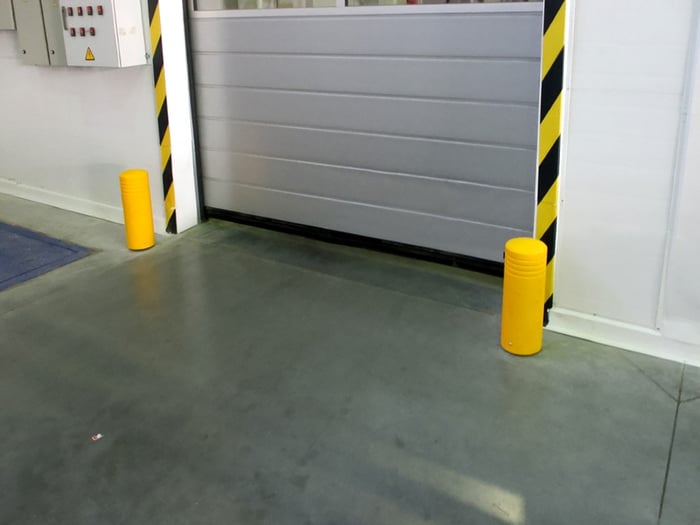 Want to roll in with the heavy equipment? No problem! McCue Goal Posts are at the pinnacle of manufacturing design. Hauling heavy equipment and maneuvering crates through your doorways can be risky and damage the integrity of your building. Worry no more with spinning and lifting door protection that not only absorbs impact but looks great, too. It installs quickly, and welding isn't necessary.
McCue: Innovators in Bollard Manufacturing
At McCue, we focus on setting the standard in material handling and retail asset protection solutions. When you need bollards, we have you covered. Contact us for a quote today!