At McCue, safety never stops evolving. That's why our bollards are more than a chunk of concrete that can damage your machinery or inventory. Not to mention, cause a jolting collision for drivers, too.
Better Bollards = Better Safety
Equipment collisions are common in warehouses, and forklifts are often a culprit. In fact, they account for 85 deaths and over 34,000 injuries every year. But many of these accidents could be prevented by the presence of bollards.
We have three bollards designed to deflect and absorb impact in a way no concrete bollard can. By creating bollards that flex and spin instead of rigidly holding their position, the force from collisions is distributed away from people, products and equipment. The result is a safer workplace for your employees, your inventory and your machinery.
FlexCore Bollard
This bollard features an outer shell made of high-density polyethylene surrounding a shock-absorbing load ring and tensile solid steel rod. The FlexCore bends upon direct hits and rotates on glancing blows—movements that help minimize force.
The FlexCore installs easily with no holes to dig or concrete to pour. During testing, it withstood the force from a 6,500-pound vehicle traveling 4.5 MPH on a direct hit and at 19.8 MPH on a 45° angle hit.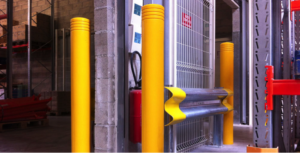 FlexCore Post 6 Flexible Steel Bollard
The FlexCore Post 6 provides a touch of aesthetics without sacrificing performance. The zinc-plated steel on the outside is resistant to corrosion. Meanwhile, the inside is packed with impact-absorbing flex technology that can stand up to collisions with forklifts and pallet jacks.
The FlexCore Post 6 is mounted with two high-strength concrete anchors that make for easy installation.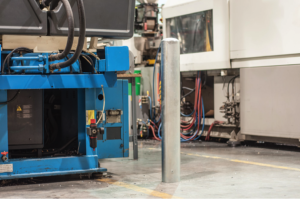 Deflector Post
The Deflector Post tilts, spins and even lifts upon impact. Designed for glancing blows, the Deflector Post is perfect for corners. Its flexible iron core and HDPE shell guide warehouse traffic and protect for years. Plus, it installs in minutes and requires no maintenance.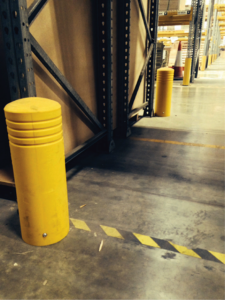 Say No To Concrete
Concrete bollards lack the forgiveness necessary to keep employees, inventory and machinery safe during collisions. They are also difficult and expensive to install and require regular maintenance due to wear and tear.
Change the way you look at safety by changing the way you use bollards. Contact us today to start increasing safety—and savings.
———-
Sources:
Occupational Health and Safety: https://ohsonline.com/Articles/2013/09/01/Death-by-Forklift-is-Really-the-PITs.aspx