Concrete bollards are heavy, difficult to install and unforgiving to objects that collide with them. While they may seem like the most effective way to protect your business assets from rogue vehicles, installing the FlexCore Bollard from McCue is a better solution. Learn just how easy it is to add these to your property.
No More Concrete. Install The FlexCore Bollard from McCue.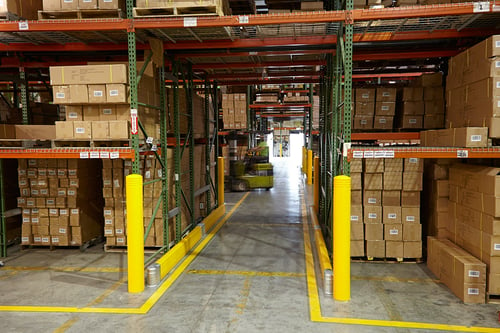 McCue makes bollard installation a cinch. Our surface-mounted FlexCore Bollards can be installed in as little as 10 minutes using only three self-threading concrete anchors. All you have to do is:
Place the base plate on the concrete mounting surface
Mark three holes on the concrete where the holes of the baseplate are located, then drill three pilot holes into the concrete
Use an impact driver to drive the concrete anchors through the base plate, washer and damper into the concrete surface and tighten
Slide the plastic FlexCore Shell over the spring-steel core
Lock the shell into place with easy locking pins to prevent theft
That's it. No excavating. No pouring concrete. No maintenance.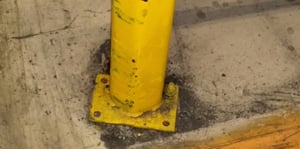 Note: These are simplified installation instructions. Read the detailed instructions on how to install the FlexCore Bollard.
Advantages of the McCue FlexCore Bollard
The FlexCore Bollard is comprised of two parts:
A high-strength spring-steel post core with an industrial shock absorber – The steel core and shock absorber disperse energy from impacts without destroying the concrete floor.
A thick HDPE shell that never needs painting – It absorbs small impacts and spins to deflect glancing blows.
Other advantages include:
Designed to withstand impacts and weathering
Available in two standard colors, or you can order custom colors to match your store or warehouse decor
No exposed hardware, which eliminates tripping hazards
Innovators in Asset Protection
McCue has been designing damage prevention products—including bollards, shock-absorbing crash barriers, rack protection, corner guards and more—since 1988. We're dedicated to providing our customers with the most innovative solutions and helping them find solutions to protect their businesses from every angle.