The corners of walls, fixtures and other infrastructure in retail stores are vulnerable to damage. And accidents happen all of the time. Make sure your business is covered with protection strips, corner guards and bumpers from McCue. Learn more about our innovative products and request a quote.
Protect Your Corners and Walls with McCue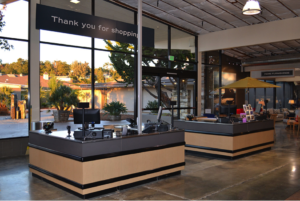 A mistake can happen at any corner. All it takes is one bump to knock over a stand of fragile merchandise and cause damage to your property.
By installing McCue's protection strips and corner guards around your store, you can prevent the worst-case scenario from happening. With our superior design and shock-absorbing capabilities, you can rest easy knowing your assets are safe in the event of an accident.
Here are just some of the corner protection products we offer:
GreenGuard 3 protection strip – Made with 100% recyclable polycarbonate to deflect damage upon impact. Our patented technology allows it to easily install around any wall or fixture, protecting any corner or curve in your business. We have three other GreenGuard sizes available, too.
CartStop RE – Worried about customers ramming your display cases? This rail provides a durable solution that can repel some of the hardest hits from shopping carts or other rolling equipment.
UniGuard 75 Corner Guard – This heavy-duty guard keeps a low profile while providing maximum protection. It stays out of the way of customers to minimize trips and falls.
Corner Guard Stainless – Add an attractive touch while shielding vulnerable corners. They can easily adjust to three different heights and lock directly into your floor.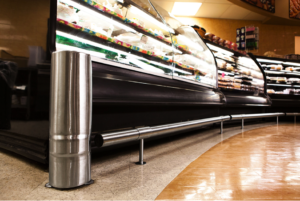 Superior Protection Systems from McCue
Since 1988, our passion has been keeping businesses like yours safe for you, your employees and your customers. Implement our innovative solutions to prevent damage and protect your bottom line.
Contact us today to request a quote!