Forklift accidents should be a major concern for any material handling company. Lost time, property damage and the risk of financial liability due to employee injuries are all serious issues. Check out some eye-opening statistics about forklifts and put the following safety tips into action.
Some Startling Forklift Accident Statistics
Here are some accident statistics that illustrate the need for forklift safety:
Almost 100,000 workers are injured by forklifts every year
85 people are killed by forklifts each year
One of every 10 forklifts is involved in an accident annually
Forklift Safety Tips
Accidents involving forklifts include everything from collisions to falls. Here are a few safety tips that can benefit every warehouse:
Inspect your forklift and ensure it's in good condition.
When driving, ensure your path is clear. Honk your horn as a warning before making a turn or crossing an intersection. Use a spotter if your view is obstructed.
Obey speed limits and proceed with caution when driving. Always be aware of blind spots.
When the vehicle is not in use, set the parking brake and chock the wheels.
Heavy loads and tight turns make the forklift more susceptible to tipping over. Remember to slow down in these situations.
Always look in the direction of travel, especially when operating in reverse.
Products That Improve Forklift Safety
The best way to stop costly forklift collisions? Arm your warehouse with McCue's innovative asset protection solutions that safeguard your property and your employees:
Pedestrian Barrier – Separate workers from forklifts and other rolling equipment with this customizable barrier that can surround any area. Its rails absorb impacts and direct their energy into the floor. It's the most advanced guardrail safety barrier ever designed.
Crash Barrier – Our high-visibility Crash Barrier system is made of heavy-duty polypropylene and will deflect forklift collisions. Surround inventory or create easy-to-see traffic lanes to keep warehouse vehicles in line. Combine it with the Pedestrian Barrier for extra protection.
Column Guards – A direct impact with a steel column could bring your entire operation down. Our one-size-fits-most Column Guard installs easily with a strap-and-ratchet system. It provides a protective cushion for years without maintenance.
Rack Protection – Shield your pallet racking from damage with our Rack Protection products. They've got you covered from all angles.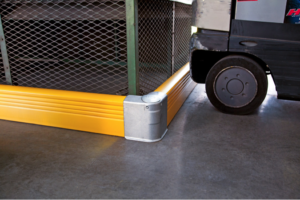 Browse our entire catalog and request a quote today!
———-
Sources:
https://www.osha.gov/pls/oshaweb/owadisp.show_document?p_table=FEDERAL_REGISTER&p_id=13456
http://www.themhedajournal.org/2013/03/06/facts-about-forklifts/
http://www.oshasafetymanagement.com/blog/forklift-safety-infographic/
https://www.osha.gov/SLTC/etools/pit/operations/maneuvering.html