The competitive market for local fulfillment and home delivery continues to grow. What once came out of the pandemic to support social distancing and increased online orders has emerged into a highly profitable market.
From the ever-increasing demand for online grocery orders and delivery, companies like Amazon have strived to speed up delivery times and other companies like Jokr have promised even more with their "groceries in 15 minutes" pitch.
To meet these needs, many retailers are choosing to transition their retail shopping spaces into local fulfillment centers to increase speed, agility, and competitiveness.
Dark Stores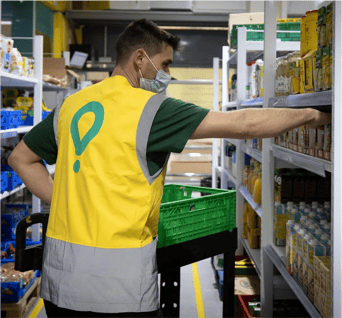 Local fulfillment can mean using dark stores. A dark store is defined as a retail store that isn't available for in-store shopping. Born out of exclusive online orders, it optimizes shopping through employees or automation to fulfill orders.
This means retailers are shifting and converting valuable space into online order fulfillment areas, where employees and/or robots are the sole occupants.
This conversion utilizes your current workforce of employees, increases order accuracy, and decreases store congestion. While there are many available benefits, there are many logistical problems and safety concerns that come from this new space of e-grocery.
Protecting your employees in a high-pace setting is essential — meaning implementing safety measures like bumpers, systems protectors for your essential equipment, and floor rails to prevent wear and tear on your shelving units.
It can also mean assessing store layout and potential safety concerns. Luckily, our safety experts are the pros. Chat with a safety expert to schedule a consultation.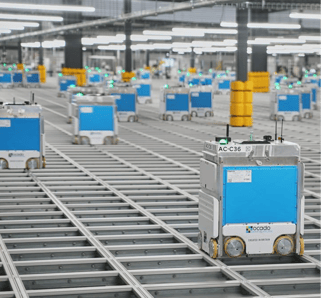 Automated Distribution
Many retailers are choosing automation inside their stores to increase fulfillment speeds even further. Rather than having people complete repetitive tasks, advanced robotics can speed up and repurpose spaces to help reach customers faster than ever.
This can mean a mix of advanced robotics selecting, weighing, and packaging products, alongside operators and general employees.
When operating within a high-speed mechanized environment, there can be plenty of machinery moving around — creating a risk for accidents and injury.
It's essential to keep your workers separated from heavy machinery, it can save their lives. Prevent accidents before they happen. Find the right industrial safety barrier to keep your people safe.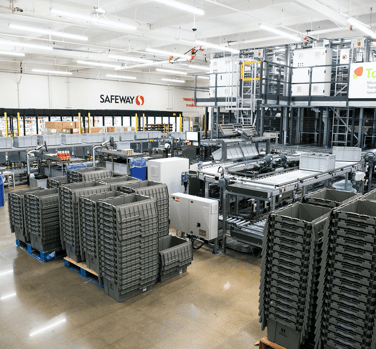 One option is our pedestrian barriers — designed with different levels to match your needs and do what matters most.
Like Pedestrian Barrier with CrashBarrier PLUS+. With reinforced hidden technology, this barrier can stop impacts from forklifts and redistribute the impact to prevent harm to the operator.
Highly Visible Safety & Hazard Communication Barriers Create Safer Spaces
Portable barriers like innovative retractable belt barriers enhance facility safety. They allow fast communication within your stores to let employees mark off areas or understand dangerous areas.
Our Plus Line products offer classic "rope and post stanchions" to provide immediate, high visibility for effective traffic management.
Rollout and Roll-On
Ready to re-design and re-think your store into a local fulfillment and home delivery operation? We can help! We're experts in safety and completing store rollouts — with 1,800+ store rollouts completed in 3 months under our belts. Let's start your safety journey today.
Let's talk store place safety

Want to read more? Check out Part 1.