Every business owner is aware of the risks of damaged products. Just 1% of inventory shrinkage can mean a 10% hit against your profit. But it's not just money that's affected, either. Time, effort, space and other resources are also put you on the hook for processing claims and replacing the goods. Not to mention unhappy customers and clients.
So what can be done? Below are a few ways to reduce your risk of damaging your products.
Protecting Your Product
Damaged pallets can mean damaged product. Pallets that are old, rotted or damaged can be unsuited to bear the weight of a load. Perform routine inspections on pallets and pull any compromised ones out of the rotation for repairs.
Messes in your warehouse can make messes of your product. Make sure the area where you store your product is kept clean and sanitized. Spilled liquids or released chemicals can cause goods to stain or deteriorate.
Watch your weight. Know the weight restrictions of storage racks, pallets and machinery. Overloading is an easy way for products to get damaged.
Maintain equipment. Perform regular preventive maintenance on any equipment that comes into contact with your product in any way. This includes conveyor belts, forklifts, trucks and more.
Train and supervise employees. Products are often damaged as a result of untrained or uncertified employees. Any employees handling your product at any stage of its lifecycle should be properly trained to do so and supervised while doing it.
Protect your facility. Protecting your product means protecting your infrastructure. Use protective equipment like bollards, rack protection and rails & barriers to minimize the impact your product takes on in the event of a drop or collision.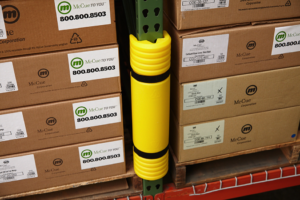 McCue Has You Covered
At McCue, we supply companies with the material handling products they need to keep their inventory safe and secure. Browse our catalog to see the many ways we can keep your products, employees and bottom line safe from damage.
———-
Sources:
Board Room Metrics: http://www.boardroommetrics.com/blog/inventory-shrinkage-is-it-eating-in-to-your-profits-20131010.htm#.V204sbgrJPY