Protecting employee safety is one of the most important and stressful parts of the job. It's on everyone's priority list, so the forklift operator should value it just as much as you do. But you're the only person in the chain who has to think about constructing a better way from the start — the only person who needs to look at safety on a facility level, often before a warehouse is even completed.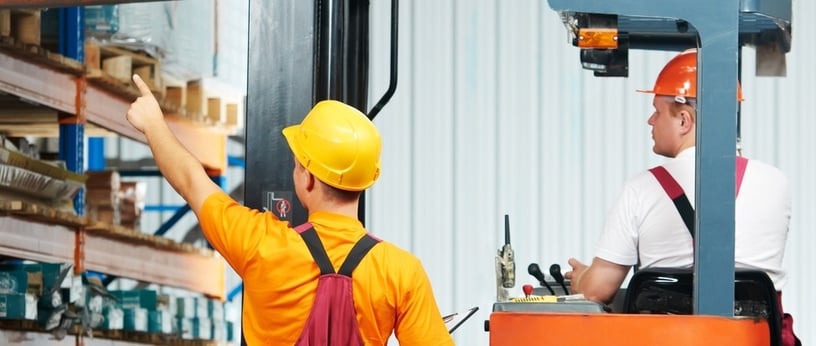 And when you know that the number of forklift injuries per year (non-serious, serious and fatal) is nearing 100,000, the pressure to keep your warehouses safe is immense. Those are just forklift injuries, to say nothing of other incidents: In 2015, nearly 0.7 million injuries (25.0 percent of total injuries) occurred in goods-producing industries, which accounted for 17.5 percent of private industry employment in the United States.
So what can you do? Fortunately, there are ways to build safety into your designs and redesigns, and though training is a big part of the responsibility, engineering can set the stage.
5 Ideas for Improving Warehouse Employee Safety
1. Get Automated
One of the most obvious ways to improve safety (thereby protecting employees, assets and your company's bottom line), is to remove the employee from the most dangerous tasks by opting for automation. For example, if you've always had a manual power jack in your warehouses, updating to an electric jack would reduce the possibility of incidents.
2. Incorporate Pedestrian Barriers
You always strive to design facilities in a way that promotes safety, but making that process easier is a matter of choosing the right products to fill the safety gaps. If you want to protect employees (and product!) from forklift crashes and resulting injury, you can't just design in a way that keeps all forklifts away from all employees. Things go wrong. And when that happens, a product like an impact-absorbing pedestrian barrier can make the difference.
A modular barrier design means you can protect employees regardless of current warehouse layout limitations, and energy absorbing materials and construction are the perfect way to do it.
3. Use Crash Barriers, Too
A crash barrier in combination with a pedestrian barrier is a force to be reckoned with (but not wrecked). Engineered from solid ductile iron with maintenance-free polypropylene, a crash barrier is ideal for creating clear traffic lanes and separating equipment from people. Because these barriers are flush to the ground, they also protect against forklifts protruding into the pedestrian area. Use both of the barriers and your employees will be virtually untouchable.
4. Consider Guards
Planning for column guard use in your facility really just requires understanding how the guards will impact column dimensions and understanding the level of protection needed (e.g. using a crash barrier might be more appropriate in high-traffic areas). But it's an easy solution to an age-old problem: poles being in the way of operations.
5. Include Safety Plans
Your engineering tactics are an excellent way to create the platform for safety, but it's up to the people in the warehouse to act safely every day. With reference to the important aspects of design, such as traffic lanes and guard placement, create a plan to accompany any upgrades or new installations. It can simply discuss the benefits of what you've just implemented, along with some "awareness tips" to help get everyone comfortable with the change.
Employees Come First
Nothing affects your facility health and organizational wellness more than the well being of the employees who operate the business day to day. You already know they come first, and now it's time to find ways you can build their safety into the structure of your buildings. Start with the five ways described above and you'll be well on your way to helping your business realize reduced downtime and higher — all because you'll have safer, happier employees.