Handling warehouse materials is a whole lot safer when you have the right asset protection solutions. McCue specializes in designing products that go to work for you. Our equipment can be found in warehouses, factories, distribution centers or any facility where materials are manufactured, processed, stored or shipped. They safeguard valuable equipment and your employees.
Below is an overview of our lineup of material handling safety equipment and how it can make your warehouse safer and more efficient. Request a quote today.
Our Equipment Has A Handle On Your Material
We have products designed specifically for the transportation, storage and shipping or receiving of materials.
Transportation
Forklifts are the No. 1 culprit of OSHA citations. But the most dangerous aspect of material handling can be made safer by our equipment that protects your product, your employees, your machinery and your bottom line.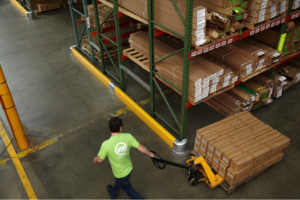 Storage
Stored material in a warehouse is a sitting duck with all those forklifts and pallet jacks flying by. Our protective equipment keeps your pallet racks safe from damage.
Rack Mounted Guard – Absorbs impact from heavy collisions so your material doesn't have to
Rack Guard – Your material isn't the only thing that needs protection. The racks on which they are stored do, too.
Rack End Protector – Stop machinery before it hits your goods and stop losing money on damaged materials
Shipping and Receiving
Material coming in and out of a warehouse must navigate ramps, steps and doors. We make it easy.
Goal Posts – Protect the entire frame of a door with this three-sided design that spins, lifts and absorbs impact.
At McCue, we make material handling safer, easier and more efficient for warehouses. Contact us today to get started.
———-
Sources:
DC Velocity: http://www.dcvelocity.com/files/pdfs/infographics/2016/20160607warehouse-safety-infographic.pdf