Forklifts, pallet jacks and other mobile equipment make material handling easier and more efficient for employees of factories, warehouses and distribution centers. But when not utilized properly, this heavy machinery can also put the safety of material handling in jeopardy.
Below are 10 ways safety can be improved through the proper use of material handling equipment.
Improving Material Handling Safety
Allow only trained, certified and qualified employees to operate forklifts and other heavy machinery.
Perform daily inspections and audits on all material handling equipment.
Keep paths and aisles clean and free of any loose debris that could get in the way of machinery.
Operators and supervisors should know and adhere to the size and weight restrictions for each piece of equipment and never attempt to lift or transport more than the recommended capacity.
Personal Protective Equipment (PPE) should be worn at all times during equipment operation, and seat belts should always be used.
Employees who do not operate machinery but work near it should also be properly trained in safe practices for doing so.
When finished with use, equipment should be lowered to ground level, turned off with keys removed and stored out of the way.
Materials should be inspected before loading to ensure the pallet is intact, any lids or protective wrapping are properly sealed, and the stack is stable.
Have an emergency plan in place and make sure all employees know how to execute it.
Perform preventive maintenance on all equipment on a regular basis to ensure it is always in good working order.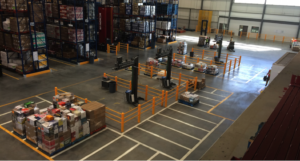 Implementing Safety Measures
One of the easiest ways to improve material handling safety in any facility is to install pads, protectors, guards and other items wherever heavy machinery is used. McCue specializes in designing innovative safety solutions such as:
Bollards
Crash and pedestrian barriers
Rack guards and end protectors
Column guards
Door protectors
Flex posts
These products can greatly improve safety by minimizing impact and absorbing shock when collisions happen.
McCue makes material handling safer for employees, inventory and equipment alike. Contact us for a quote today.
———-
Sources:
Occupational Safety and Health Administration: https://www.osha.gov/SLTC/personalprotectiveequipment/