There is a good reason why BOPIS (buy online, pickup in-store) is offered by most successful retailers to drive customer experience and sales. As a stepping-stone between both the digital and physical shopping experience, it keeps customers happy and drives sales. In fact, the International Council of Shopping Centers (ICSC) reports over 50% of adult shoppers use BOPIS, and 67% of those people add additional items to their carts when they know they can pick them up immediately.
In a realistic lens, every consumer has different demands and preferences for how they want to explore, purchase, and pickup shopping. Not every consumer fits into one category either, with 60%-70% of consumers reportedly shop in an omnichannel way.
Developing a wholistic BOPIS system means exceeding expectations for consumers and creating a seamless blend of your business regardless of which channel they use. And focusing on online pickup can be quite profitable. Over 70% of shoppers say BOPIS (buy online, pickup in-store) improves their shopping experience. That same percentage, 7 out of 10, of Americans are willing to spend extra money to save time and effort, and 29% of Americans admit to spending more than they can afford on delivery services.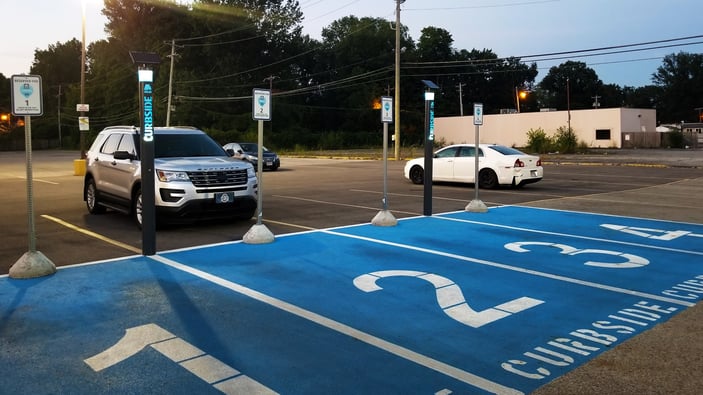 As a convenient, cost-effective option in the retail space, we're looking at leaders who are successfully leveraging BOPIS as a key player in their overall retail strategy — to drive performance and sales. We'll dive into specific strategies, but we will cover top tips for improving curbside pickup programs, such as:
Safe, integrative online pickups
Providing additional purchase options
Convenience improvements
Shorter wait times
Integrative Infrastructure for Online Pickup — with H.E.B.
San Antonio-based grocery giant H-E-B is once again turning heads after taking the top spot in the U.S. for its online ordering and curbside pickup services, a recent consumer survey finds. They adopted a strategy integrating both the physical and digital demands for pickup, which allows their employees to use pack orders inside the store and safely bring it out to consumers. This allows for easy customer service and branding, since their operations work right alongside the rest of their brick-and-mortar shopping.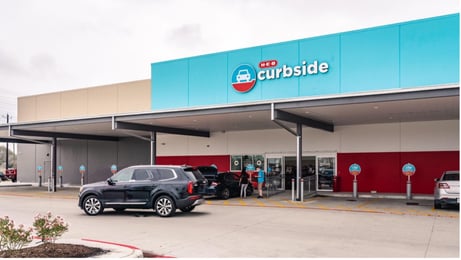 Its recent success can be attributed to their foresight into consumer trends and a close attention to their operations. Pre-pandemic, H.E.B. began integrating its online pickup directly through its storefront, creating an extension of their store. Currently, more than 250 of the grocer's 350-plus stores in Texas offer curbside service, which the company said will continued to be expanded across the state.
This layout means customers can pull to the side of their building into designated parking spots that do not take up prime spaces up front. Employees can pack orders internally, and safely enter and exit the side of the building to provide customers with their orders. Thus reducing safety risks and making moving both inventory and supply easier — saving time, money, and liability.
In fact, H.E.B. has been globally recognized for its customer pickup, winning first place at the top online grocer in the American Retailer Preference Index, according to global customer data science company Dunnhumby. They won first place over Amazon, due to winning factors like their high level of emotional connection and online share of wallet among their customer base compared to the other retailers studied. So creating a cohesive store layout and online pickup attached to a physical store does have its benefits.
"H-E-B's impressive performance proves that it's possible to compete and win against Amazon when it comes to grocery e-commerce. Their success offers mid-size and regional retailers a roadmap on how to succeed online," said Grant Steadman, President of North America for dunnhumby. "H-E-B's eCommerce journey goes back to 2015, when they first started with curbside pick-up, and they have since built up a powerful online ecosystem. The combination of a simple and easy to use shopping experience with a fantastic emotional connection with customers shows how grocers can thrive in this multichannel landscape."
Focusing on Online Pickup Practices — with Target
In turn, Target chose to focus on add-ons and lead times for their online pickup customers. They positioned their online orders as supplementary, rather than detracting from in-store sales. Target CFO, Michael Fiddelke, noted that customers who try Drive Up spend about 30% more than they did before, including on groceries and other household essentials.
Target did see Drive Up sales soar 600% early in 2020 and 500% through the second half of the year, and it sustained triple-digit growth into 2021. In Target's most recently reported fiscal quarter, which ended in October, online comp sales overall were up 29%, again led by growth in Drive Up.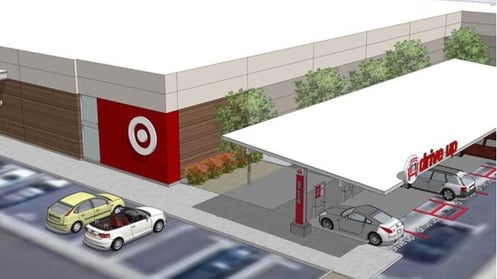 As a leader in the curbside space, they are building their new stores out with an integrative layout approach that blends their curbside pickup area closely to their in-store operations.
However, they chose to build their infrastructure separate from the store, utilizing prime parking spaces close to the entrance for instead curbside pickup. This permits shorter wait times, addressing the biggest complaint from consumers about online pickup use.
While some retailers have been concerned about losing out on ancillary purchases with the integration of online pickup, Target has successfully navigated concern with options for in-app for impulse purchases and add-ons through their strategic partnership with Starbucks.
"Guests turn to Target because of our stores and our digital options, not one vs. the other," Target Chairman and CEO Brian Cornell said in May.
While waiting for an online order, consumers are enticed to order and receive their Starbucks order from the Target app.Previously, Starbucks locations inside Target did not allow users to order directly from the Starbucks app. Now, users would be able to sit their car and have someone walk out their online pickup order and coffee order.
Customer Experience — with Walmart

Walmart is making strides to help provide a great customer experience with curbside pickup through providing automated convenience.
This means robots could provide essentially food vending machines to people waiting in their cars for their online order pickup.
While they are still working on official rollout, this indicates their successful business strategies that focus on keeping customers satisfied and addressing the number one reason people cite not returning for online pickup: long wait times.
Walmart is also looking to increase their designated pickup area space and build out operations along the side of their buildings, to allow for a safe, blocked off area for pickup.
Meals Ready to Eat — with Hy-Vee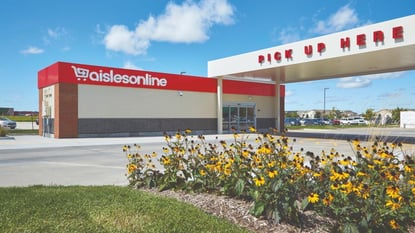 Hy-Vee is another industry leader working to integrate in-store experiences to their online pickup orders.
One integration is incorporating ready-to-eat meals into online order options, so consumers can pick up food quickly and while it's hot.
Through Hy-Vee's Mealtime To Go offerings, customers can order hot, prepared foods along with take-and-bake meals. Meals will be available for free pick up in as little as 30 minutes or can be scheduled for a future pick up time.
Advancing Innovation — with ShopRite
ShopRite's latest partnership with a Bell and Howell is attempting to set them apart in the space with its modern, easy design. Earlier this year, ShopRite Supermarkets announced they would are adopting automated grocery pickup
By using pre-made structures for a "drive-thru" experience with online pickup, customers can come to automated stations in a designated area and pickup their orders. This makes operations safer for employees by minimizing interaction between people and cars in the parking lot. Bell and Howell's automated grocery allows for faster pickup times as compared to traditional pickup. Once an order has been placed by a customer, a store associate with pick and load it into a kiosk, which then notifies the customer their order is ready for pickup. From there, a customer scans a QR code and can easily pickup their order.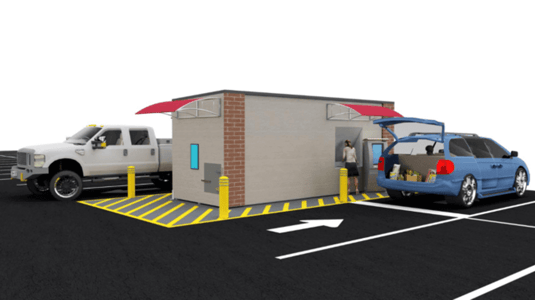 This permits options for branding and signage, to create a seamless experience for the customers.
These spaces can also be protected by bollards, to make sure vehicles are safely separated from the high-tech kiosks, products, and people. If you're consider re-designing your store or parking are layout, chat with a safety expert to make sure it's safe.
Building Branding — with Food Lion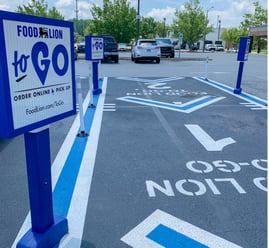 Food Lion's focus on outdoor signage and customer experience has led them to be successful on the online pickup front. With key customer communication, they've created a smooth online pickup process with designated spaces and easy-to-spot signage.
Like other retailers that have recently extended their click-and-collect operations, Food Lion highlights the fact that its own employees are picking, packing and ferrying orders out to shoppers' cars. They have also targeted reducing wait times with their pickup service offering shoppers the ability to place an order and pick it up the same day, without leaving their cars.
"We continue to offer Food Lion To Go at additional stores to help our customers spend more time on what matters most to them," said Evan Harding, director of digital and e-commerce at Food Lion, in a statement. "We want to give neighbors the option to shop however they prefer, in-store or online, while still ensuring they have access to fresh groceries at affordable prices."
Ready for your own online pickup improvement?

With the success of growing online pickup programs, we're here to help with yours. From better layouts to improve lead times and convenience for costumers, to customer communication and safety — our team of safety experts can help.
Check out our full line of parking lot safety solutions and overall retail safety solutions.
We also provide crash-tested CrashCore Bollards to protect your people and stores — keep employees at a safe distance from cars and creating designated, protected walkways.
Ready to dive in? Let's get started with a free consultation.