Protect your storefront, walkways and other vulnerable areas with parking lot bollards from McCue. Our revolutionary bollard design won't harm vehicles or the parking lot surface but is still tough enough to reduce the risk of damage to your property. Request a quote today!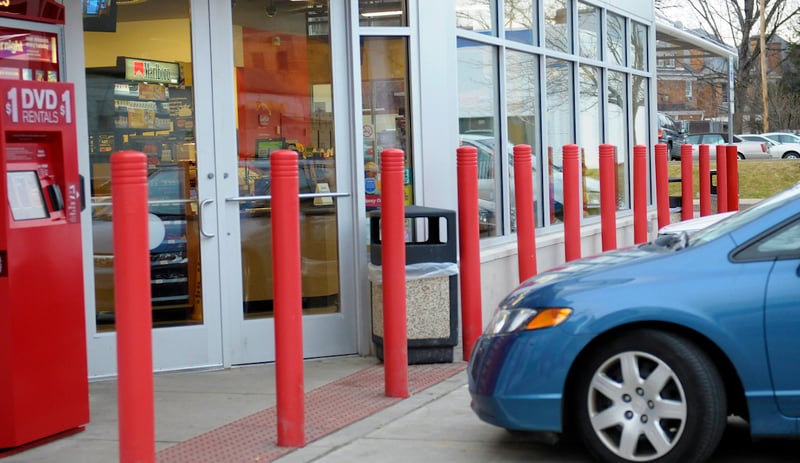 Enhance Parking Lot Safety
No business owner wants cars to drive up on pedestrian sidewalks or walkways—or into the side of his or her building. Retailers and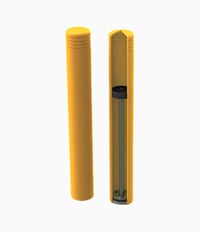 developers are implementing bollards in their parking lots to reduce the occurrence of such accidents.
McCue bollards offer simple, easy-to-install solutions that regulate traffic, protect assets and prevent drivers from damaging their cars.
Our FlexCore bollard system comes with an outer HDPE shell that spins when sideswiped. Its steel core absorbs and redistributes energy when struck, protecting the offending vehicle and the parking lot surface while still standing its ground.
It does all of this while being easier to install than conventional bollards. It only needs three anchors that drill directly into your concrete or asphalt surface.
Available in black and caution yellow, our bollards are highly visible and look better than others. They're low maintenance, too, and never have to be repainted.
You can create a safer environment for employees and patrons alike by adding our bollards to your parking lot.
Stay In Control with Bollards from McCue
At McCue, we're passionate about finding solutions to everyday problems for businesses like yours. Our design approach focuses on five key values:
User-friendly products that are easy to install and maintain
Strong, contemporary aesthetics that create a visual improvement to the environment
Built-to-last products that save you money
Safety-focused products that minimize the risk of injury
Clean and healthy workplaces are created with products like ours
Contact us to request a quote for our parking lot bollards today.
———-
Source:
Commercial Real Estate Development Association: http://www.naiop.org/en/Magazine/2014/Spring-2014/Development-Ownership/How-Safe-Is-Your-Parking-Lot.aspx