The cart corrals and other parking lot equipment and supplies from McCue are designed for functionality and appearance. Our parking lot products make it easier for your employees to gather carts and ensure your customers feel safe, all while maintaining a welcoming look.
Check out some of our parking lot traffic and safety supplies below and download a free product catalog to learn more!
Parking Lot Traffic Safety Signs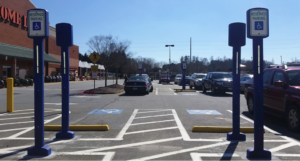 Our BumperSign boasts a shock-absorbing core that deflects any impacts to protect your customers and your business. They offer visibility, functionality and versatility by delineating everything from handicap parking spots to spots reserved for take-out pickup.
The telescoping design allows for the BumperSign equipment to meet ADA height requirements for every state in the U.S. The anchor system also makes installation quick and easy.
Parking Lot Bollards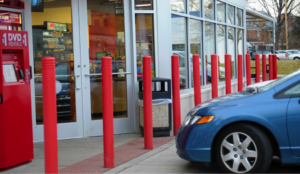 Parking lot bollards make your business even safer. McCue's FlexCore Bollard absorbs the energy of a vehicle or cart impact without causing damage. The shock-absorbing load ring and rotating outer shell are both durable and flexible. Best of all, they install in minutes and don't require constant upkeep like traditional bollards.
Cart Corral Solutions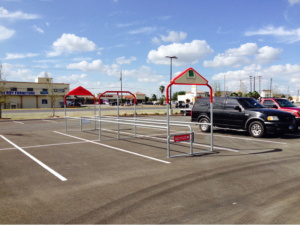 Our Bi-directional CartPark encourages customers to return their carts to the proper place. This makes your employees' jobs easier and saves you money. Quick assembly makes this a parking lot equipment essential, and it even allows for motorized cart retrieval from either side.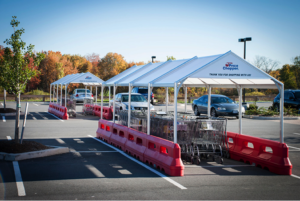 Colorful and bright, our covered CartPark Covered Cart Corrals are welcoming to your customers, easy on car doors and can help reduce injury or damage claims to your business. Extend your brand to all corners of your business.
Contact McCue
Parking lots are the first impression your customers have of your store. The equipment you use makes a difference.
Check out our entire list of parking lot equipment supplies and request a quote today!