Traditional parking lot sign posts break, cause damage to cars and detract from your business' aesthetics. Wouldn't it be great if there was a better solution out there? McCue offers the innovative BumperSign™ that's designed to withstand impact from vehicles and make a strong visual statement while doing it. Get a quote today!
Designate Any Parking Space With Style
The BumperSign is the only sign post of its kind on the market today. It's engineered for strength and safety and supports compliance across the country. And its design looks cleaner and more professional than standard signs or other flexible post solutions.
Check out this video to see our BumperSign in action:
Patent-Pending Technology
When we developed the BumperSign, we did a lot of research. We found that most parking lot signs are embedded in the asphalt or concrete surface. When a sign is damaged, replacing it is an expensive proposition. And what about the vehicle that hit it? It likely sustained some damage, too.
Our technology just makes sense. Instead of burying a sign in the ground, our anchor system allows you to install the sign easily on asphalt and concrete. Need to move it? No drilling, no pouring, no problem.
BumperSign's impact-absorbing core and protective polymer cover can take a hit from anything from shopping carts to SUVs. You won't have to repaint it constantly, either.
Support Compliance and Safety
Sign height regulations can vary by state. Our adjustable, telescoping design will ensure you are always ADA compliant no matter where your business is located.
It also features hidden hardware to eliminate tripping hazards and provide a sleek, modern look.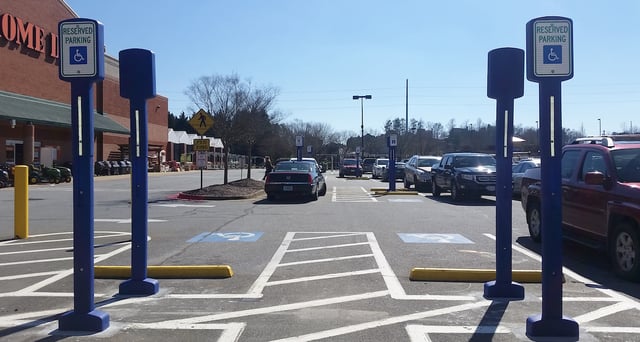 Perfect for Any Sign
The McCue customizable BumperSign is available in three stock colors (ADA Blue, Owl Gray and Black). Just add your sign and install. It will complement your parking lot and your storefront.
We also have standard accessible parking signs available for purchase.
Innovative Retail Products from McCue
McCue doesn't just provide retail and material handling products. We provide innovative asset protection and damage prevention solutions. We're just as dedicated as you are to making sure your business is a safe environment for customers and employees.
Don't just replace your parking lot sign posts. Make an impact. Request a quote for our BumperSign today.