Installing a pedestrian guardrail is an effective way to separate employees from heavy equipment. McCue's one-of-a-kind Pedestrian Barrier can surround any space and keep hazards at bay. Make your warehouse safer for your people. Contact us to get a quote today.
Hazard Protection with the McCue Pedestrian Barrier
Warehouses can be dangerous places, especially when forklifts and other machinery are buzzing around in proximity to pedestrians. Designating pedestrian walkways and installing pedestrian barriers and railings are some of the many safety measures OSHA recommends to business owners.
At McCue, our Pedestrian Barrier is the most innovative and advanced solution to the problem of pedestrian collisions in the material handling industry. Where traditional barriers or rails break or damage equipment, our guardrails stand up to the challenge.
Made of HDPE and zinc-plated steel, the barrier's posts and rails provide complete protection by diverting the energy from impacts into the concrete floor. Its modular design can be adapted to fit any space, no matter how big or small.
The rails are a bright yellow and impossible to miss. If you need extra security, install it around areas also protected by our Crash Barrier.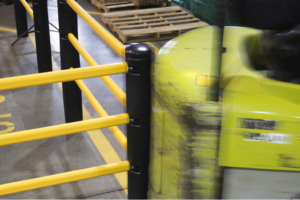 When we tested the durability of our barrier, we found that the lowest tested Pedestrian Barrier Post can take a hit from a 6,500 lb. vehicle traveling at 2.2 miles per hour. It's that strong.
Click here to watch the barrier in action:
McCue: On the Cutting Edge of Design
At McCue, we create products that meet the needs of material handling and retail every day. We believe that people make the difference and our designers, engineers and project managers work hard to take care of customers like you.
Whether you're in the shopping center, parking lot or in the warehouse, our idea-driven solutions help protect, organize and enhance the retail shopping experience for your customers.
McCue. Better from every angle. Get a quote today.
———-
Sources:
OSHA: https://www.osha.gov/SLTC/etools/pit/workplacehazards/pedestriantraffic.html