Why Safety Bollards?
Safety bollards are essential in keeping people safe and organized — serving as a strong barrier that separates your heavy equipment and vehicles from your workers.
Safety bollards are designed and tested to ensure people are thoroughly protected — because they can save lives. One forklift accident could mean injured workers, hazardous damage, and potential downtime for your facility. Bollards play a critical role in preventing accidents and keeping your people safe. They're the ultimate safety solution that cushions blows and protects them from harm.
In addition to people protection, safety bollards can also serve as visual barriers, control traffic flow, and protect your assets. Safety barriers can protect vital systems like utilities, racking, and inventory in your distribution center. Bollards can also create spatial awareness for operators — marking off zones and preventing places at risk of being accidentally hit by forklifts.
But not all bollards are built the same.
MEET THE NEWEST SAFETY BOLLARD — FORTIFIED WITH Impact-Absorbing INNOVATION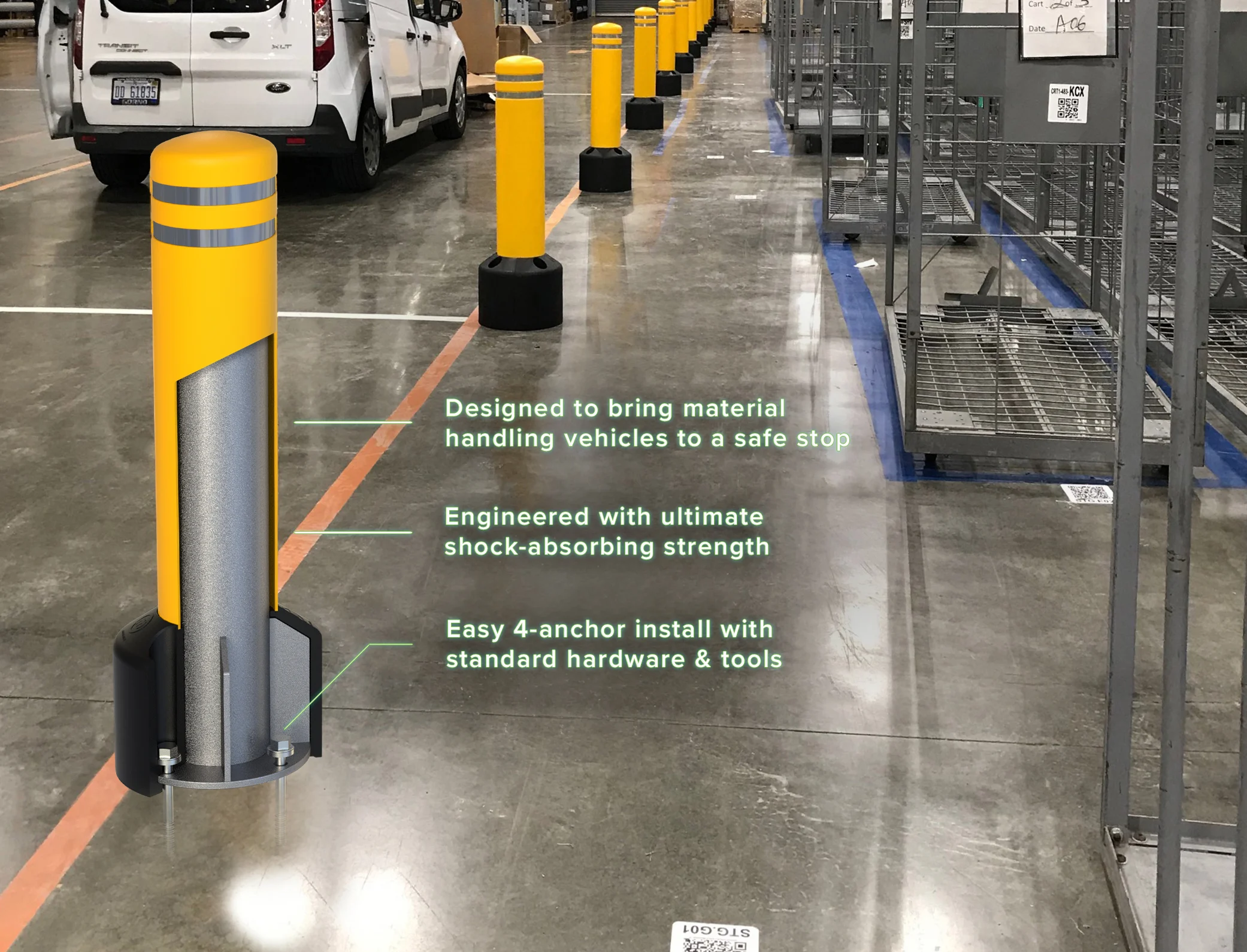 A Strong, Safer Bollard
Meet SafeStop Bollard 15! It's a powerful safety barrier that absorbs impact energy and attenuates shock — so it redistributes the impact load instead of transferring it to the ground or the vehicle.
It's secret? A high-strength base combining molded synthetic elastomer and high-strength steel that provides ultimate stopping power with unparalleled shock absorbency.
Industry Innovation
It's our strongest bolt-down bollard to protect your people and your facility, able to withstand up to 15,000 J of impact energy! Its strong, flexible technology means impact energy dissipation and safer stops
SafeStop's shock-absorbent technology is a game-changer. Imagine you're in a forklift, careening towards a safety barrier. Would you rather impact a rigid steel barrier or a shock-absorbent one? SafeStop Bollard 15 was engineered to cushion impacts, so you come to a safer stop.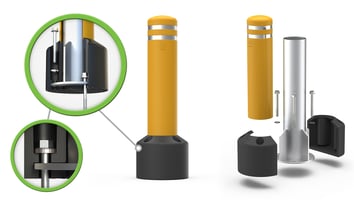 Easy Installation
We believe safety bollards must be strong and shock-absorbent — and very easy to install.
With these requirements in mind, we designed a simple 4-anchor install to provide protection quickly and intuitively. Not only is it simple to install, but our safety experts can make it a full, turnkey process for you.
We'll examine your business — from storefront and building protection, sidewalks, utility protection, loading docks, and more to learn about your unique operations. Once we understand the demands of each space through careful observation, we can make recommendations. Then comes the easy part: our installation takes minutes! Within 15 minutes, you can increase visual awareness and safeguard your space.
We're experts in identifying risky areas and protecting them — with properly placed bollards that maximize safety, budget, protection, and operating space.
With SafeStop Bollards, you're not just getting bollards: they come with McCue's experience and expertise in installation and effective placement. We can do it all for you — ask a safety expert about our turnkey services.
KEEP YOUR OPERATIONS SAFE AND YOUR WORKFORCE SAFER WITH THE WORLD'S MOST ADVANCED SAFETY BARRIERS — SPEAK TO A SAFETY SPECIALIST TODAY.