Installing safety barriers from McCue in your warehouse will protect your infrastructure and cut down on the number of costly accidents. Put trouble in its place with our durable, innovative solutions. Contact us to request a quote today and start making your warehouse a safer—and more productive—place.
Safety Barriers Come in All Shapes and Sizes
Here are just a few of our innovative products that keep your people and property safe.
The McCue Pedestrian Barrier—Guardrail Safety Barrierprotects employees from industrial accidents caused by forklifts and moving warehouse machinery.
Features include:
An energy-absorbing design to direct impacts along the rails and into the concrete
A post and rail safety barrier system that completely protects you from heavy equipment
Customization to fit any space, no matter the size
Compatibility with our Crash Barrier can be added for extra security
Highly visible rails that always stand out in a busy environment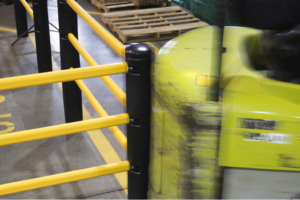 Our product specialists designed a modern marvel of safety that's truly one of a kind. You could say we broke the mold with this design, but our barrier wouldn't budge.
When we tested the durability of our Pedestrian Barrier guard rail, we found that the post can stand up to an impact of 6,187 lbs.
Watch our Pedestrian Barrier in action:
Our Crash Barriers protect your walls, pallets and infrastructure from vehicle collisions. Engineered from solid zinc-plated steel and enveloped in maintenance-free polypropylene, our crash barriers can be used to take bumps or create traffic lanes around your warehouse.
Features include:
A highly visible yellow finish
100% angle protection to absorb bumps and deflect blows
Zero maintenance—meaning you install it once and watch it do its job for years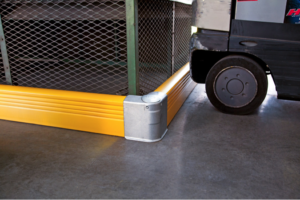 According to our testing, the crash barrier can take an 11,311 lb. impact—the equivalent to a 6,500 lb. vehicle going 4.1 mph.
Click here to watch the Crash Barrier in action:
Safety is a Priority at McCue
McCue is dedicated to creating material handling safety solutions that protect your building, your equipment and your people. Contact us to request a quote for any of our products today.