The only thing that moves as fast as distribution centers is the pace of innovation inside them.
With new systems come new challenges—and with new challenges come new risks to people, facilities, and equipment. McCue stays ahead of the curve, designing and engineering industrial safety barriers proven to protect better.
Our process begins with listening and learning. We strive to fully understand your challenges. Know your risks. Then we set to work developing solutions that may be the reason someone goes home to their family with a story about a close call, instead of the frightening alternative.
McCue's barriers stand up to both day-to-day hits and prevent worst-case scenario accidents. Massive impacts turn into softly cushioned blows. No repairs. No downtime. No injuries.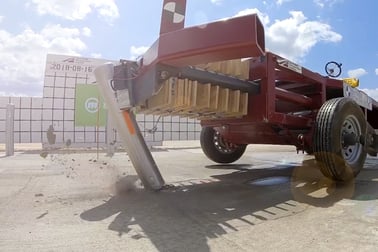 Tested. Verified. Conforming.
Every McCue Safety Barrier is tested to the most applicable standards for its applications.
McCue products push beyond OSHA, ANSI and PAS standards—at times achieving twice the standard. Critically, our barriers' strength rating is derived at their weakest point, while others promote their ratings as their barriers' strongest points.
We're the global leader in safety bollard crash-testing to the ASTM F3016 standard, having conducted over 24 full-scale tests. All precise. All reported. All third-party validated.
Watch and Learn
We believe in complete transparency and know that seeing is believing. Beyond our precise Safety Data Reports, we invite every customer to watch our product testing—either in person at the McCue Innovation Center or through our live-streamed tests.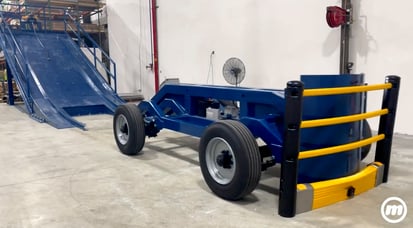 With a 360-degree VR system in development, you'll be able to choose your point of view: from product-tester to product-being-tested with a camera mounted to our surrogate test vehicle.
Our bogie—the surrogate test vehicle—is a real-life, ultra-precise representation of your vehicles moving at your maximum speed in your space.
We dial in the weight to match your trucks or forklifts, match their speed with laser precision, and create an impact that's measured with such exactness that we can assess every millisecond from contact through rebound and back to a standstill.
Data Where it Counts
Our surrogate testing vehicle is equipped with high precision Data Acquisition System (DAQ) that measures precise acceleration curves on the x, y, and z-axis 10,000 times per second. This allows us to measure and compare the magnitude of impact forces of a rigid steel bollard (20 G) to our Flex Core Bollard (.5 G) — which can be the difference between tragedy and a close call.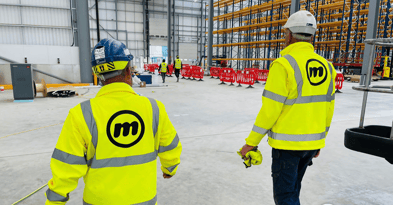 With the data from our DAQ system comes peace of mind for your safety engineers. We'll provide the threshold the barrier can withstand to keep people safe — and the threshold it can withstand to not require repairs or maintenance.
Viewing high-speed videos at 40,000 frames per second, every facet of impact dynamics can be analyzed and answered. Generating charts of impact equivalent forces, every requirement will be met. Looking at drone footage of dynamic deflection, every choice will be validated.
Confidence—Custom-Engineered or Off-the-Shelf
When you choose McCue for your industrial safety barrier needs, you're choosing certainty —backed by real-world testing and quantifiable data. What we learn from one customer we apply to the next. Always innovating, evolving, and improving. You don't stand still and neither do we.
Get started with an industrial safety expert today.