When most people think of a warehouse, they picture an unfriendly, cavernous space — but not you. You know that there's opportunity in warehouse and distribution center design. And guess what? You're on trend. Large-scale distribution centers are breaking this stereotype by instituting a variety of cosmetic and functional changes — making them more efficient and worker-friendly.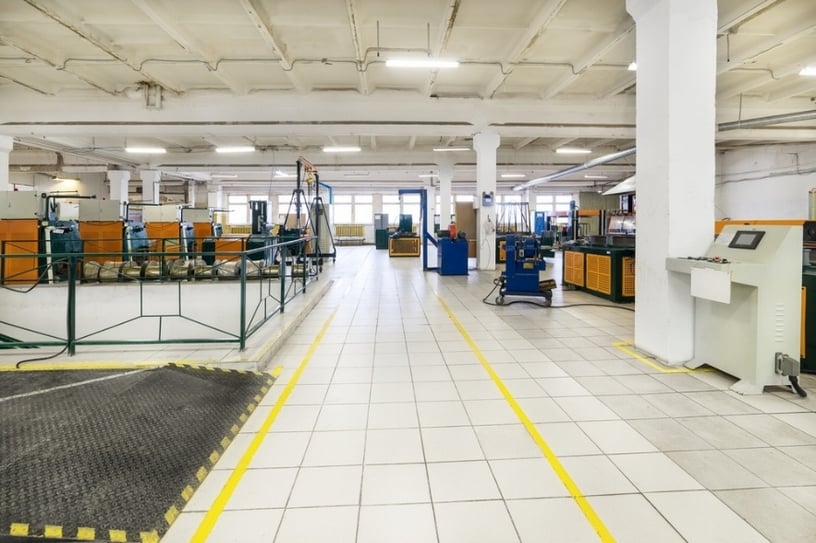 Amazon's 1.2 million square foot facility in Phoenix, AZ is a prime example of how the aesthetics and design of distribution centers have changed. In Amazon's case, this fundamental design shift is aimed at improving accuracy and efficiency, in order to fulfill their promise of next-day delivery. Their Arizona facility, known as "PHX6," is startlingly bright, lit by overhead skylights and white LED bulbs.
This mix of natural and engineered light illuminates the spotless floors below and a field of giant machines and storage aisles. Conveyer belts snake between different sections of the warehouse, quickly carrying small packages and tools between designated drop points. The back wall of the building houses a sea of loading docks that open up to an ocean of asphalt.
There are water fountains throughout the warehouse, group meeting rooms and even tricycles for traversing the distance between opposite ends of the facility. But the improved comfort and atypical ambience of this warehouse is most likely a byproduct of a more economic concern — precision. In order to deliver on strict deadlines and product turnaround rates, Amazon facilities must be the epitome of organization, efficiency, collaboration and productivity.
Like Amazon, an increasing number of companies are relying more heavily on technology to coordinate inbound and outbound orders. Terminal servers generate product and package labels, complete with scannable barcodes and tracking information that allows employees to find exactly what they're looking for without searching the whole facility. The reliance on technology is more than a trend; it's a necessity, and everyone is doing it — not just big, shiny facilities like Amazon's.
Changes in product tracking capabilities have also changed the way companies organize their inventory. Instead of keeping a product in its own designated section, large-scale personal suppliers like Amazon scan and place products randomly throughout the facility, thus ensuring there's always one close at hand (and cutting down on the time employees spend traversing the warehouse). If products can be accurately located electronically, then there's no need to adhere to a traditional, library-like filing system. In this way, better warehouse technology also fosters better design malleability — in other words, warehouse setup can change to accommodate a company's changing needs.
But with businesses working harder (and faster) to fulfill more orders, and warehouses becoming less static in layout, maintaining effective safety measures can be a challenge. Products like McCue's Pedestrian Barrier and Crash Barriers help ensure the safety of employees while also protecting the integrity of expensive machinery and infrastructure. In the age of the modern warehouse, it's important that protective barriers and guards are not only effective, but also more easily reconfigured in order to accommodate any trendy changes in layout and activity centers within the facility.