Five Steps to Improving Warehouse Operations
1. Put Safety First
Making warehouse safety improvement a top priority means not cutting corners when it comes to protecting your workers and your facility. Safety guardrails like the Pedestrian Barrier from McCue keep warehouse workers safe from forklifts and other large equipment.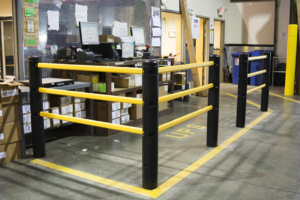 Improved safety equipment may require some installation time up front, but in the long run, you can expect higher employee satisfaction, increased productivity, reduced absenteeism and decreased equipment downtime.
2. Post Visual Reminders
By posting safety expectations prominently near all equipment, warehouse supervisors relay any potential dangers and the steps workers can take to avoid injury. Posting safety precautions also demonstrates to workers that their safety is a priority shared by everyone.
3. Ensure Proper Use of Safety Equipment
Warehouse safety equipment is only as good as the manner in which it is used. Haphazard use of safety goggles and hard hats can lead to avoidable injuries. Make sure that employees use the appropriate safety equipment at all times.
4. Keep Aisles Cleared of Debris, and Clean up Spills
Slips and trips are common warehouse accidents that result when workers encounter unexpected hazards in traffic areas. Boxes, tools and other items should not be left in aisles unattended. If a spill occurs, the area should be closed off with prominent signs, and the spill should be cleaned up immediately.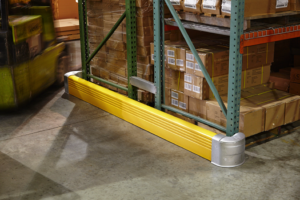 Material handling safety products like the Crash Barriers from McCue help in framing off employee areas and creating warehouse traffic lanes.
5. Develop an Emergency Response Plan
Make sure that workers have access to adequate fire safety provisions and that lockout procedures are used properly. Your warehouse emergency management plan should include clear designation of emergency exits, instructions for evacuation and procedures for accounting for all employees.
Warehouse Improvement Products From McCue
Looking for more ways to improve safety, operations and productivity in your warehouse? Protecting your assets—including your workers—is one of the many ways you can make your warehouse more efficient.
See McCue's entire line of innovative products designed to protect your inventory, your facility and your workers. Contact us today to request a quote.
———-
Sources:
Legacy SCS: https://legacyscs.com/warehouse-safety-checklist-8-things-every-manager-review