Welcome to our Retail Grocery Series, a series inspired by our participation with StorePoint Fresh.

Online Grocery Order Fulfillment Gains Priority As Demand Soars
Online grocery order fulfillment is evolving faster than ever as more customers choose to shop digital aisles over physical ones. In August 2019, sales were 1.2 billion U.S. dollars and grew to 4 billion dollars in March of 2020, a 233 percent increase. Sales grew by an additional 80 percent from March to June (source: Statsticia).
Unlike in-person grocery shopping, online grocery orders provide a low-touch solution — making it a preferred option in light of the Covid-19 pandemic. Not to mention, it's convenient. You can order a week's worth of food through your smartphone.
Post-pandemic predictions estimate online grocery shopping will only continue to increase with 90% of e-grocery customers expected to continue shopping online, and just 7% of online grocery shoppers said they will return to brick-and-mortar stores.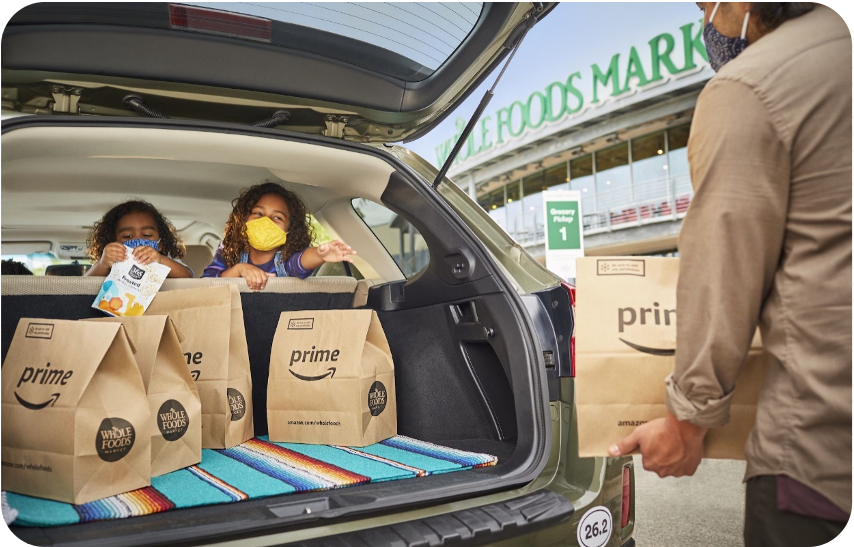 With this huge market growth potential and the pressure for demand, some retailers are struggling with successfully fulfilling all their newfound online grocery orders and best serve their customers. Particularly the final step in the process: curbside pickup or delivery.
Why Curbside?
Curbside pickup is the final step in what is sometimes referred to as "Buy online pick in-store" (BOPIS). BOPIS encompasses the entire process of customers digitally selecting their groceries, purchasing them, and then coming to your store to pick them up. While many stores have mastered the digital side of this process, the physical pick up itself could use some work.
The option for pickup allows customers to directly interact with your store — which many customers prefer — and it saves the fuel, time, and number of customers served in a time frame when compared to delivery service.
However, as a relatively new grocery concept, grocery managers are still adjusting and struggling to establish long-term solutions for curbside pickup.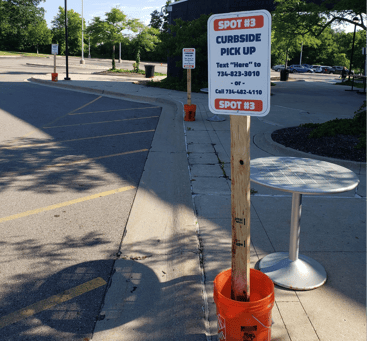 Some retail stores choose customer pickup through a designated spot in the parking lot, while others use lockers, in-store pick up, or outsource to third-party stand alones.
With increased demands for curbside pickup comes a need to solve pain points like optimizing order times, ensuring accurate inventory, creating ideal pick-up locations, and preventing liabilities.
In this new space, there's plenty of room for accidents and errors with busy parking lots and high-traffic, distracted drivers, unclear signage, and disorganization.
Instead of adapting and "getting by" with online orders and pickup, grocery stores can fulfill these needs effectively and efficiently.
Perfecting Curbside Pickup
All customers start their customer journey with your parking lot. Parking lots make your first and last impression with customers, so it's crucial to get it right.
Especially with curbside pickup, customers may only ever experience your parking lot and never enter your retail store.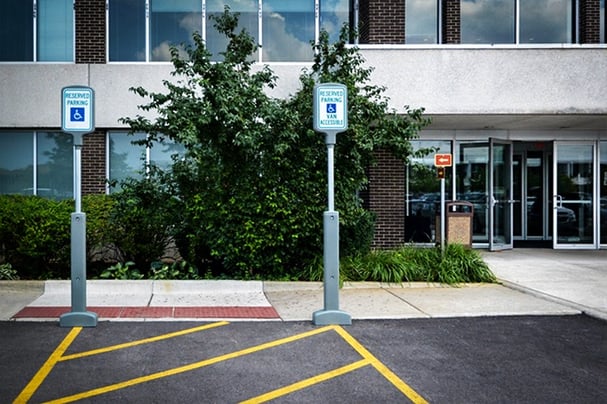 Start with perfecting your signage. With curbside pickup here to stay, signage in a plastic bucket isn't going to cut it. Prevent signs falling over, potentially even damaging cars, with signposts designed for your busy lots.
We offer a robust line of outdoor signs to keep your storefront safe and organized.
Upgrade your parking lots and mark off designated spots with BumperSign Mobile. Weighted with 350 lbs of sand or stone, this sign is easy to install and engineered to thrive in any weather. Bring it to your new designated curbside pickup areas or mark off an area for regular customers — the choice is yours.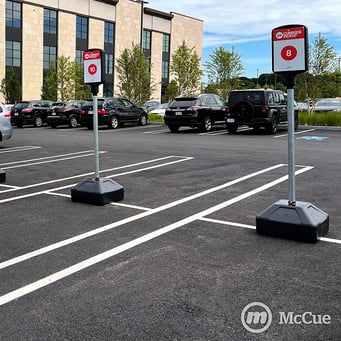 Or choose BumperSign Flex, our flexible, surface-mounted sign that thrives in retail parking areas. It's built with an impact-absorbing core, protective cover, and hidden hardware so it can absorb impacts while looking smashingly good. So you don't have to worry about accidental bumps and dings in your parking spaces.
Want to see even more of our innovative signs? Check out our extensive Outdoor Signs.
Take the opportunity to make curbside pickup the best possible experience for your customers.
Our modern products — with key hidden technology — will keep your people safe and happy while they pick up. Let us handle the safety process for you — check out retail products and turnkey services.
Let's talk curbside safety