Walls, shelves, refrigerator cases … stores have a lot of right angles. And these right angles often take big hits from stock carts, pallet jacks, shopping carts and foot traffic. While you might be tempted to buy low-cost guards and call it a day, don't settle for guards that end up dingy and damaged with time. Find corner guards from McCue for premium protection.
McCue offers corner guards made from stainless steel and durable polypropylene that are designed to protect every corner in your store. Impacts to corners can not only cost you money to repair, but can also spoil food and damage merchandise.
Our corner guards are versatile enough to protect any corner in your store, are easily removable for maintenance and they can be customized to match your brand's colors.
UniGuard 150 Corner Guard
The UniGuard 150 is a simple corner guard that can be used in a variety of applications, from protecting refrigeration cases to exposed wall corners. It can be mounted extremely close to corners which eliminates tripping hazards and blends in with decor. It is made from durable and rust-resistant stainless steel and features a polypropylene safety top that can be customized to match your brand's colors.
Options include:
12″ UniGuard 150
18″ UniGuard 150
24″ UniGuard 150
Corner Guard Standard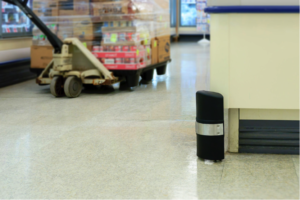 The Corner Guard Standard is an impact-resistant corner guard that is made from durable polyethylene and stainless steel. The solid design and stainless steel plate looks modern while providing superior corner protection. This corner guard also mounts right up against corners.
Other benefits include:
Twist-and-lock anchor system allows for quicker installation
Easily removable for cleaning
Built-in wrench for quick removal and replacement
Adjustable up to ¼ inch
Corner Guard Stainless
The McCue Corner Guard Stainless offers all of the benefits of our Corner Guard Standard but in solid stainless steel. The solid stainless material provides high-level protection while looking sleek and modern and is easily installed with our twist-and-lock technology.
Other features include:
Fit close to corners to avoid costly impacts
Lock to floor for security
Removable for easy cleaning
Available in three heights (12˝, 18˝ and 24˝)
Brushed stainless steel finish and rounded edges
Corner protection from McCue doesn't end here. Check out our entire collection of sales area corner guards or contact us to learn more.