Take control of your warehouse with guardrail safety barriers from McCue. Heavy machinery operating in proximity of your employees and inventory carries a risk of property damage, injury and even death. Separate workers from equipment with our patent-pending design that can surround any space. Request a quote today.
McCue's Warehouse Guardrail System Improves Safety
There's nothing more important than protecting your workforce from heavy equipment. That's why you need a guardrail system that's tough enough to repel any vehicle that gets too close for comfort.
McCue's guardrail safety barrier is made of durable zinc-plated steel and HDPE. It's strong. Testing shows that if a 6,500 lb. forklift traveling at 13 mph hits the barrier post at a 45° angle, it'll keep standing.
And our guardrail system is more than just durable. It's:
Innovative – You won't find another guardrail solution that's as advanced as ours. It absorbs the energy from impacts and directs it into the floor.
Highly visible – The yellow railing is impossible to miss and perfect for creating clearly marked pedestrian areas and walkways.
Customizable – The modular design can be adapted to fit virtually any space. Protect workstations or large areas of inventory.
Hassle-free – All McCue products install easily and last for years. Forget about expensive, labor-intensive maintenance.
See the barrier fend off a forklift in the video below:
Add Crash Barriers for Even More Protection
When you need extra security around key areas of your warehouse, combine our guardrails with our Crash Barriers. They're reinforced with solid steel and will withstand even the hardest hits. They sit low to the ground and are perfect for creating traffic lanes around your facility. Like the guardrail, you can install these barriers in just minutes and never have to worry about maintenance.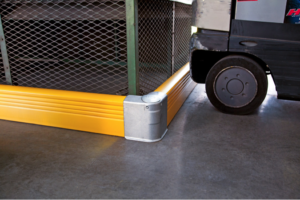 McCue: Your Trusted Partner
McCue has been a leader in the asset protection industry since 1988, and our material handling products are taking the warehousing industry by storm. And we know customer service doesn't stop with the sale. Find out how we make doing business with us a pleasure.
Contact us today to request a quote for our warehouse guardrails.